Cake toppers can be as unique as you!
Cake toppers come in a million different shapes and sizes and that's part of the fun! Whatever you want your cake to say, there's a topper that will do the job. They can be really fun and whimsical, or focus on a specific message. Whatever the cake and occasion, it's always great getting to choose a topper that's really unique to you.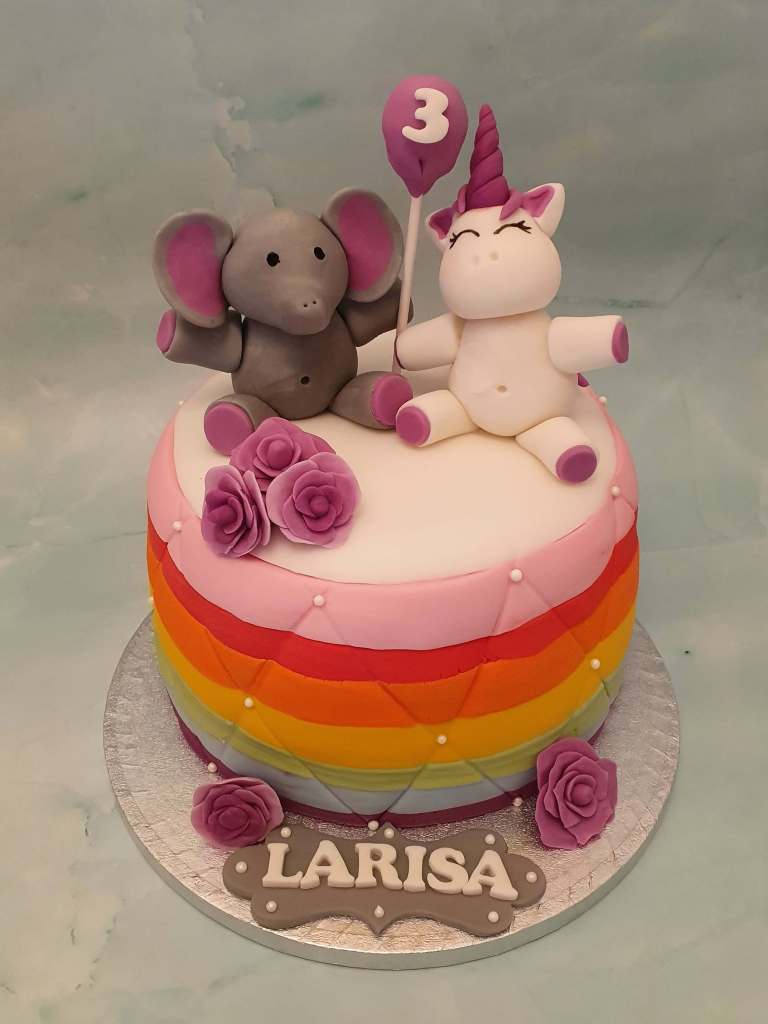 Choosing your cake topper
Toppers come in loads of different materials and choosing the one that's right for your cake can seem a little daunting.
The first step is to decide whether you'd like it to be edible or not. I like the idea that the whole cake can be eaten, including the decorations. That's why I make all of my cake toppers edible. However, you can find a huge range of non-edible cake toppers and this opens up other options that go beyond what edible toppers can do in terms of design.
Now let's look at some of the types of cake toppers and what each type is good for.
Types of cake topper
There are many materials and styles of cake topper and the range only grows with new trends coming in all the time. It's great because it gives you loads of choice and flexibility to get exactly what you like on your cake. Ordering a bespoke cake is often for a really special occasion and you want to make sure the cake reflects exactly what you want. Having such a range of options help to make it perfect for you.
Edible modelled cake toppers
These little beauties are my favourite cake toppers. You can have your favourite character, animal or even person (I once modelled Alan Titchmarsh… yes you heard that right!). Edible, modelled toppers are completely flexible to your design as they're made bespoke for you. Being made to order gives you great flexibility on what you can have on your cake making them the most personal of toppers, which I love.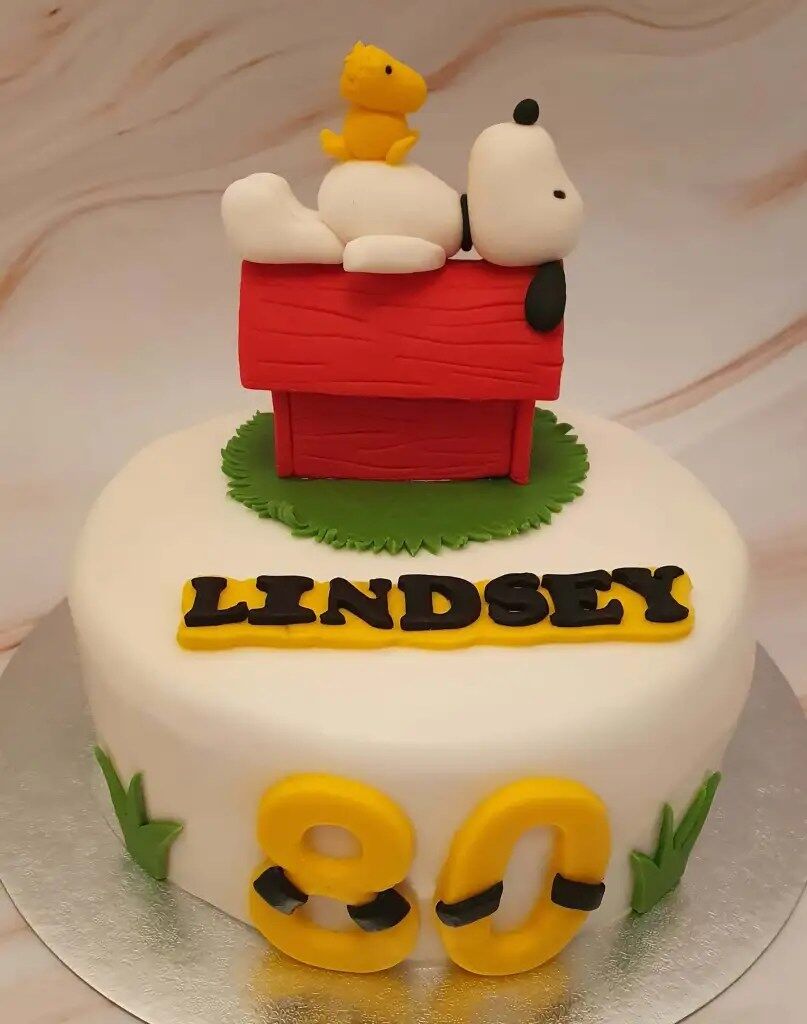 Edible printed toppers
Printed toppers are lots of fun, especially when you can also eat them! You can have something as detailed as a photograph on top of your cake, or even go for the logo of your favourite brand. I made a Louis Vuitton shoe cake using a printed LV topper to give it a super authentic feel. As much as I love modelling, sometimes printed just ends up cleaner, sharper and more suitable for the cake finish.
Edible floral cake toppers
Some of the most beautiful cake decorations I've ever seen are edible, modelled flowers. I often think that sugar flowers are even prettier than real ones as they're the stylised version – no greenfly here! Real flowers can have sad petals, dry leaves or other imperfections, but sugar flowers are modelled to be perfect every time. You can also have any flower that you like, regardless of season, rarity, or even reality! If you want that elusive blue rose or a gold centred peony, your wish can come true with a sugar flower.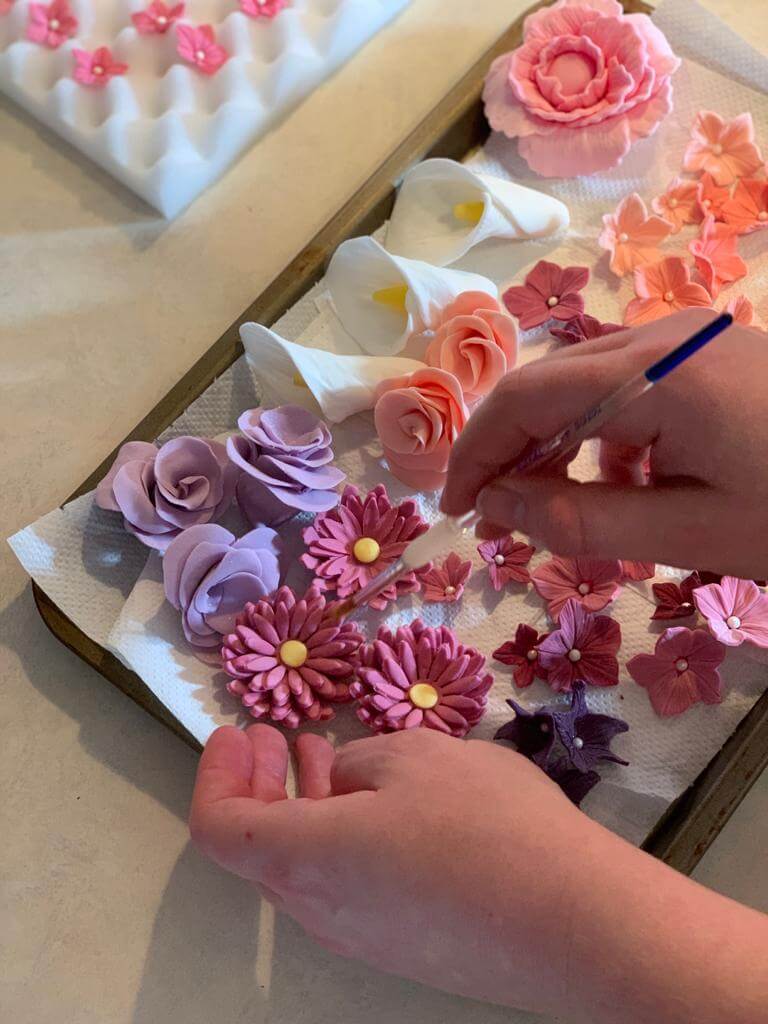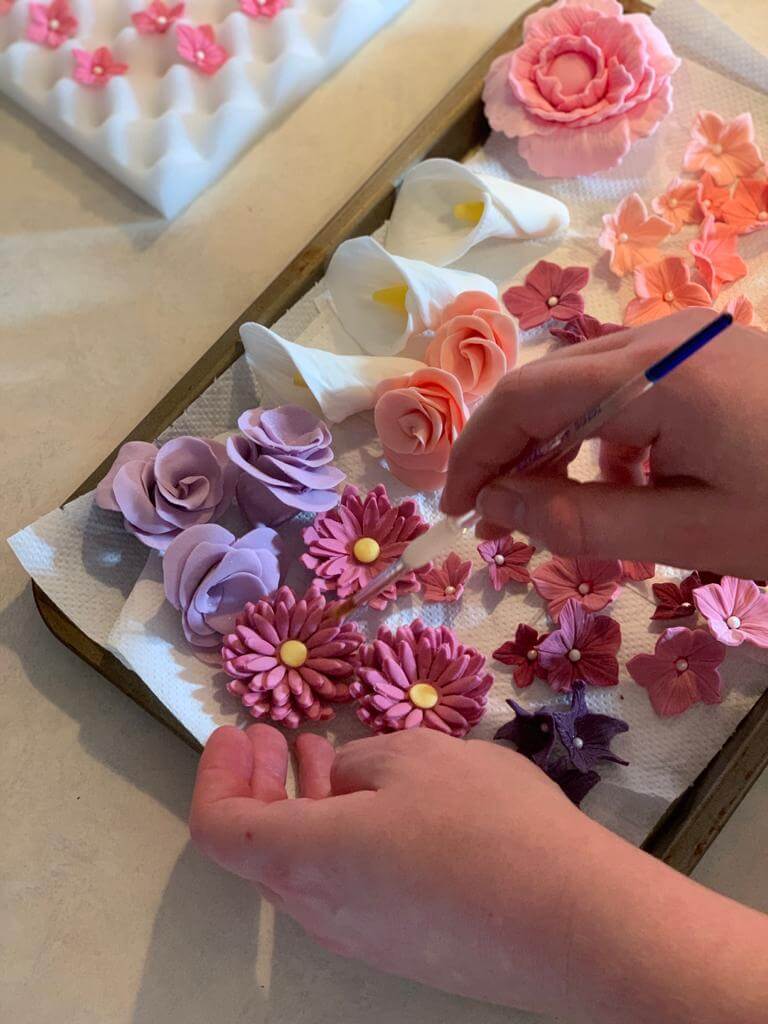 Cardboard printed
Cardboard cake toppers are a fab, simple way to add a message to a cake. They can be really impactful, glitzy or glam. Having the letters cut out makes the message super clear and you can choose any font you like so it reflects the style of your cake. They're also super good value and one of the most cost effective ways to get a message on top of your cake.
Perspex printed
Perspex cake toppers are like the levelled-up version of the cardboard topper. They give a clean, stylish look to any cake and allow you to choose both a background colour and a font colour, so you can be a bit more playful with them. There are often glittery and shiny options too, so you can really bring the glam! They're slightly less flexible than the choice of cardboard toppers, as you are often constrained to what you can fit in the disc shape, but they are a great option for a really sleek finish to your cake.
Photographs
Why print the picture on the cake when you can use an actual photograph? It's lovely re-creating scenes and memories with fondant models, but sometimes you just want the original image on your cake. Using photos can be great for this sort of nostalgic cake or one where you're celebrating a specific memory. Just grab some clips and pop your favourite snaps on top of the cake.
Plastic modelled cake toppers
Plastic models can be great cake toppers if you don't want to spend the time making edible versions. You can often find popular characters from Disney or children's shows in small plastic models. These are perfect for sitting on top of your cake. They're re-usable (if you can get the buttercream out of the nooks and crannies!), so great if your little one has the same Frozen obsession year on year on year… 😉 Some of my personal favourites use LEGO to create some really fun scenes on top of children's birthday cakes. The only drawback of plastic modelled cake toppers is that you might struggle to find exactly what you're looking for. Particularly if you want something more niche, there might not be one available. This is when I'd turn to edible modelled, as you get exactly what you want made from scratch.
Non-edible floral toppers
Finally we round off our selection of cake toppers with the real flowers. These are most often found adorning wedding cakes, as they can be matched to the bouquets and flower arrangements. Real flower cake toppers are fab for occasions like this! Just remember, you'll have to take into account seasonality and supply when you're planning your real flower cake; not all blooms are available all year round. If your favourite blossom isn't available when you want it, you can always go for an edible sugar-flower arrangement instead.
So what are you waiting for? Go top your cake!
That brings us to the end of this run down of some of the most common cake topper options. These cover a range of toppers that suit everyone from cake-baking beginners to more experienced bakers and all budgets and tastes. The real thing to remember is that whatever your cake, there will be a topper that's just perfect for you!

If you'd like to order a cake with any of these toppers, just get in touch. I can put together the perfect design for you. And remember, all cakes are delivered free in Milton Keynes! Check out my bespoke cake gallery to see some of the stunning toppers I've created in the past.

Hi, I'm Marie and I love to make cakes! I started baking professionally after I was made redundant during lockdown and decided it was time to do what I love for a living. I've got many years of experience making cakes for family and friends and can't wait to make them for you too! I also want to share tips and tricks from all I've learned over the years, so I can help you on your baking journey too.