How to cut a cake like a pro
It seems strange to write a whole blog post about cutting cake, but I wanted to share the best way to get the most out of your bespoke cake. You not only want your custom cake to look amazing, but you want to share the love with as many people as possible. Hence, a whole blog post about how to cut your cake and get the most delicious slices out of it.
Cut your cake into squares
If you want to get the most out of your cake, traditional triangles aren't the best way. Cutting your cake into squares or rectangles will allow you to share the most portions and keep everyone happy. It's also great when you've got more than enough slices so people can go back for seconds!
If you cut your cake this way, you'll get as many as 12 portions from a 6 inch round cake and 20 from an 8 inch! Way better in squares than skinny triangles.
Check out the diagrams below to see where to cut.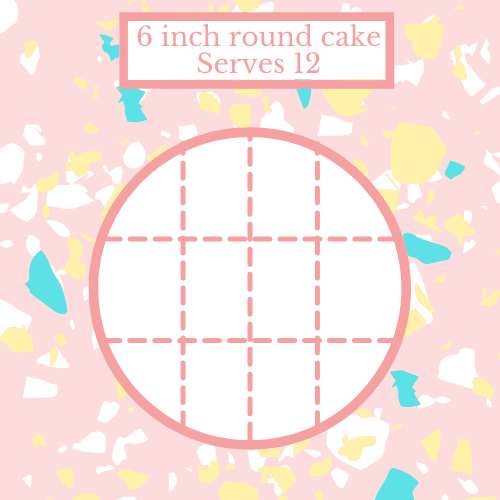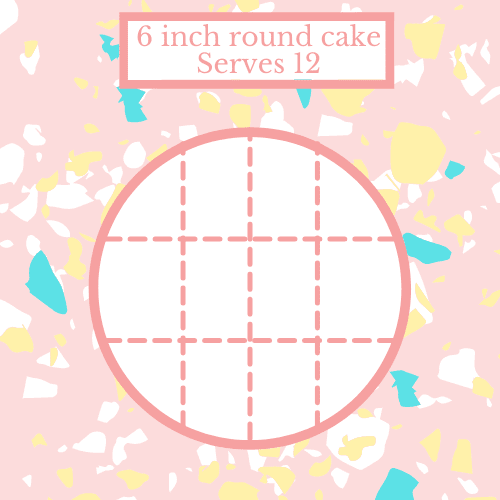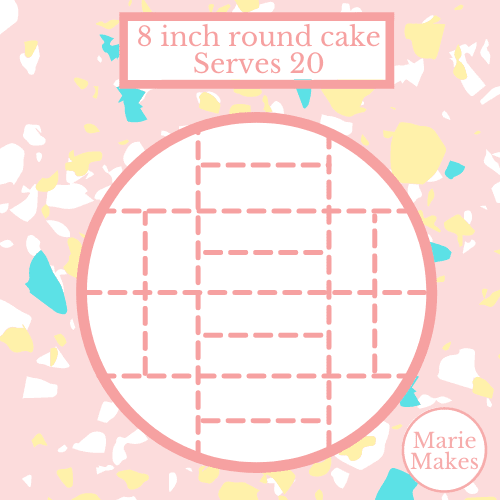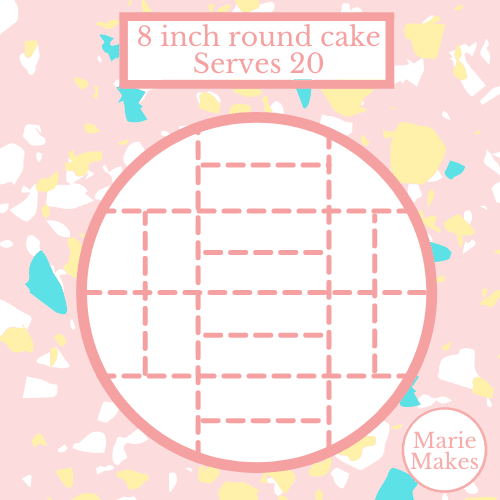 Stop your cake from drying out
Cutting your cake into squares also allows you to stop any uncut cake from drying out. Cut from the middle of the cake first and then just slide the two halves back together and save it. This means the whole outside of the cake will still be iced, with no sponge exposed to get dried out. Never waste any cake again! Not that cake ever hangs around in my house long enough to be wasted… haha.
The best type of knife to cut cake with
Another cool cake cutting tip is to use a serrated knife. It's tempting to think that a straight blade will make a cleaner cut, but this will squish the cake and squeeze out the filling in the middle. I go for the bread knife every time. It cuts the cake crumb far more neatly without squeezing out the filling. It also allows for nice, even slices.
Bonus cake cutting tips
A pro cake cutting secret is to pop your knife into warm water before you start to cut. This will help the knife to slide more easily through the cake and the filling. Then use the warmed knife to score your slices into the icing. This means you can see the portions before you even cut them. It's a lot easier to check that you have even cake squares before you chop. This allows you to adjust your lines too, before the cake's cut and it's too late. Nobody wants grandad to have a smaller slice than granny; chaos would ensue!
Get your own bespoke cake to cut
For your own special cake get in touch and we can create a unique design for you. You can also check out our selection of existing cake designs that you can order at the click of a button. The only problem then is that our cakes look so good you won't want to cut them!

Hi, I'm Marie and I love to make cakes! I started baking professionally after I was made redundant during lockdown and decided it was time to do what I love for a living. I've got many years of experience making cakes for family and friends and can't wait to make them for you too! I also want to share tips and tricks from all I've learned over the years, so I can help you on your baking journey too.